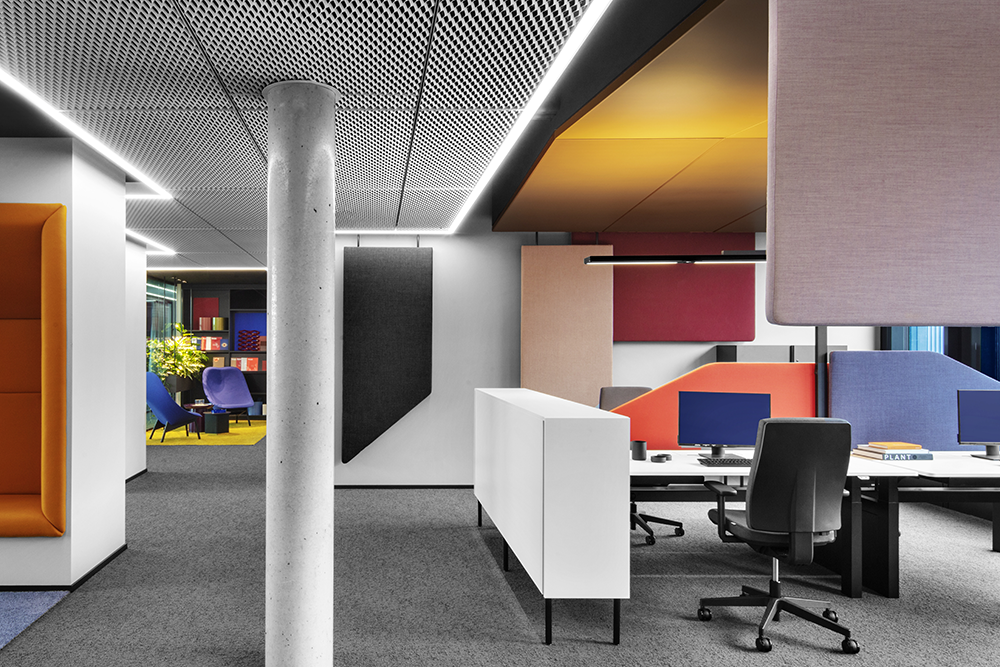 Ippolito Fleitz Group turned an office into a colour deck fan, and a guide to paint and manufacturer company Wörwag's brand values.
Ippolito Fleitz Group knew that a 3,500-sq-m administrative building for a paint and varnish manufacturer had to be predicated on colour. But it also needed to inspire and support staff while promoting a sense of belonging amongst co-workers. The resulting interiors have such a strong visual identity inside that it is apparent even to passersby on the street below.
Colour, texture and forms are central to the design. The ceilings, designed after a colour fan deck, turn the office's four levels into an exhibition hall. Apart from being an iconic design gesture, the ceilings also serve as a means to zone the areas within each part of the office: different departments are segmented by ceiling colours so employees can easily identify team space. Other areas like social zones are marked by strong colours, whereas working zones feature more subdued hues.
On the ground floor, transparent gull-wing doors separate the lobby from the cafeteria, which offers diverse seating options to accommodate a variety of work and social scenarios. On the three upper floors dedicated to office space, the team created an open design in which employees feel a sense of belonging, while avoiding long, noisy halls. This was achieved thanks to the interspersion of transparent meeting rooms, individual offices, and think tanks with open plan workstations.
Serving as a living showcase of the brand's values and product, ultimately, the designers say, 'the project puts the need of the users at the centre to create a specific and individual, yet functional location.'
Designed by Ippolito Fleitz Group
Via